Calming Facial (50 min) $149
Cooling treatment to relieve sensitive delicate skin. Restore the natural Vitamin E and B levels to boost the skin's vitality and strength. Beginning with a gentle cleanse, tone and then massage, the skin is soothed using a cream rich in marine saccharides and red algae, and invigorated to promote new cell generation.
Replenishing Facial (60 min) $169
For dry skin and the first signs of ageing, plump out any fine lines, for flawless, supple skin. Stimulate your skin's production and kick start the cell regeneration process. This nourishing cleanse, tone, mask and delicate eye serum contain Vitamin A and E which boost collagen production and decrease wrinkle depth for lasting results.
Rejuvenating Hydration Facial (70 mins) $179
Highly concentrated hyaluronic acid rejuvenates dehydrated skin in this pampering, smoothing care ritual. Following a cleanse, tone and liquid exfoliation that breaks down build up on weary skin, a hydrating gel masque floods the skin with moisture while you enjoy a relaxing scalp massage. Finish with pore-refining ice ball massage and concentrated hyaluronic capsule that seals moisture deep within your skin, rendering a toned and smoothed complexion.
Dermosthetique Eyelift Treatment (30 min) $70
Indulge with our exclusive Gel Liftant Eye Patches that will soothe, calm and hydrate the entire eye area for instantly softer lines and rejuvenated eye appearance. Your eyes will be treated with key ingredients that will deliver nutrients to the eyes and a luxury energy point massage to reduce puffiness, dark circles and soften the appearance of fine lines and wrinkles.
Escape Sacred Express Boost (35 mins) $85
Refresh and purify your skin with a cleanse, exfoliation and stimulating facial massage. Very hydrating and relaxing, this facial is a good quick-fix if you are stretched for time.
20/Twenty/20 (60 mins) $99
Chose any three of those 20 mins treatments to make a perfect treat for you: – back/shoulder and neck massage – mini booster facial – brow shape and tint or lash tint – foot massage.
Escape Tropical Relaxation Massage (30 mins) $65
Escape Tropical Relaxation Massage (60 mins) $109
Escape the daily stress with this deeply relaxing massage using nourishing Coconut Oil with the divine floral scents of the Pacific – pure Bliss!
Escape Hot Stone Massage (60/90 mins) $120/170
Heated lava stones are placed strategically on pressure points to melt away tension and improve circulation, while the magic hands of our therapist perform a therapeutic massage – a wonderfully relaxing experience that promotes a deep sense of wellbeing.
Escape Aromatherapy Massage (60 mins) $120
Treat the mind, body and spirit to a unique massage experience using a blend of Aromatherapy oils mixed to your preference. The ideal massage for stress relief and relaxation.
Tropical Paradise Body Glow (80 mins) $159
Relax and enjoy while your body is gently exfoliated with the Pure Fiji Sugar Rub revealing new healthy skin as well as strengthening skin elasticity, replenishing moisture and supplying the skin with Vitamins A, C and E. After this detoxifying treatment relax for a 1 hour full body massage. This treatment will leave you completely refreshed.
Escape Detox Mud and Massage (65 mins) $155
Indulge and melt away unwanted stress with this relaxing treatment. Includes a back exfoliation, self-heating mud application and massage to ease muscle aches and pain.
Deep Back Cleanse (45 min) $120
Focusing on the back, draw out impurities and calm irritations with a bamboo extract exfoliate and clarifying mask of white kaolin clay infused with vitamins A & E. Indulge in a scalp massage. Pamper and sooth your skin with a hydrating body wrap and finish with an oil-free moisture care that leaves your back smooth to the touch.
Full Body Exfoliation & Massage (70 min) $175
A full body cleanse and scrub with delicate bamboo extract will relax weary muscles and prepare you for a luxuriant massage. Release tension and allow yourself to bliss out to a restorative full body massage infused with blackcurrant seed oils, rich in omega 3 fatty acids that penetrate deeply and offer nourishment and protection to tired skin.
Shape and Lift Contour Wrap (60 min) $130
Shape and Lift Contour Wrap + Hot Stone Massage (90min) $210
Firm the body silhouette with targeted care that stabilises cells and increases their cohesion deep down resulting a visible 'corset effect'. After priming the skin with a purifying exfoliate, enjoy a full body wrap of precious creams containing Siberian ginseng and taurine that deliver regenerative care to your skin cells. While the ingredients target problem areas, unwind with a relaxing scalp massage. Complete your body shaping treatment with a full moisture care, or upgrade for a hot stone treatment.
Detox Full Body Wrap & Massage (75 min) $180
Detoxify the body and reveal smooth, soft skin through a combination of toxin releasing mud wrap and gentle lactic acids that slough off dead skin cells. Following an exfoliating scrub, a marine algae mud wrap envelopes you, drawing out toxins and saturating your pores with moisture. A finishing full body massage with a coconut milk moisturiser uncoils deep-seated tension and refines and reveals cashmere skin.
Custom Design Massage (30 min) $75, (45 min) $99, (60 min) $120
Massage by design, your tailored massage will work out stubborn knots and release built up aches and tension in target areas. Back, neck, shoulders, or full body, fall into a deep state of relaxation in this truly therapeutic care that renews the body while extracts of balloon vine calm inflammation and smooth muscle tissue.
Escape Spa Facial and Back Massage (80 mins) $169
This popular combination of back massage, hand treatment and full escape spa facial is the perfect treat for someone special.
Escape Chillout (110 mins) $210
Relax and enjoy a full-body massage with Pure Fiji back exfoliation and our luxurious Escape Spa Facial.
Escape Time Out – The Power of 3 (170 mins) $310
Luxurious spa facial, full body massage with Pure Fiji back exfoliation and indulgent pedicure-spent a whole morning or afternoon being pampered-pure bliss.
De Luxe Signature Package (3 hrs 30 min) $410
The ultimate indulgence leaves no detail unattended and De Luxe Signature Package delivers the quintessential spa experience. Embark on the sensory journey with a full body scrub followed by a cocooning body wrap. While a nourishing wrap envelopes you, receive a tailored facial that tones and revitalises your complexion. Complete your Signature Experience with a hot stone massage for face and body and moisturising care.
FACIAL BOOSTER ADD-ONS:
Eye Supreme Mask $30
Omnilux (20 mins) $60
Hydro Actif Capsule $10
Gel Patch Liftant $25
Back Massage (20 mins) $40
Hot Stone Relaxation $25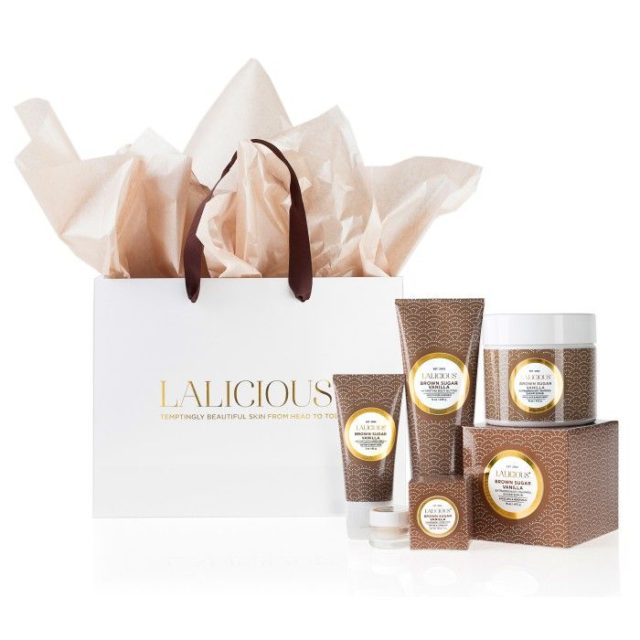 All of the LALICIOUS products are made using high-quality and natural ingredients that are nourishing to the skin and body.
Using ingredients such as Sweet Almond Oil and Vitamin E Oil give the skin natural hydration that lasts all day.
None of their formulas include parabens or sulfates and are never tested on animals.