Brow or lash henna tint (45 min) $40
Brow and lash henna tint (45 min) $75
Henna eyebrow/lash tints are a semi-permanent form of eyebrow tinting using natural henna dye to stain the skin as well as the brow hairs which gives the illusion of depth and fullness in the brow area. Henna is a well-known, old, natural, plant-derived dye used for dyeing eyebrows, eyelashes, hair, and in many cultures, used in the art body paint. Henna is especially valued in cosmetics, due to very rare allergic reactions that may occur while using it.
Lash henna indulgent (80 min) $150
Lash indulgent (60 min) $99
Get more of your lash lift by adding tinting with tint and keratin fluid which covers every single eyelash sealing the cuticles and filling all the gaps for thicker and blacker lashes for longer. Keratin can be build up from treatment to treatment. Straight after the treatment the lashes will look wet, spidery just for the next 24 hours, when we recommend to stay away from any water, rain, steam. The result lasts up to 8 weeks.
Velvet eyelash reconstruction $150
Treat your eyelashes with the best out of the best – multi-step treatment to curl, tint your lashes while treating them with the growth activator and covering with velvet essence full of nourishing vitamins, oils and microelements. Such a beautiful complex to spoil your natural eyelashes! The result lasts up to 8-10 weeks. The lashes will be curled/lifted according to your eye shape and wishes, tinted, moisturized and nourished with the good boost of growth. BONUS: every single Velvet client gets FREE home oil cocktail to take away & look after your lashes at home. This treatment is great for everyone, and must-to-do for weak, short, dry, damaged lashes, chemically treated lashes or after extensions. For somebody who love their lashes and want just the best from them. Great gift option for your Best Friend.
Eyebrow tinting is the process of applying semi-permanent dye to enhance, shape, and define your brows.
An eyelash tint consists of adding a special dye to your eyelashes, giving you weeks of dark, full lashes without the assistance of mascara.
Brow wax/shape (15 min) $25
Brow shape & Tint (30 min) $40
Lash & Brow Tint (30 min) $45
Lash tint, Brow shape (30 min) $45
Lash / Brow shape & Tint (30 min) $55
Lash lift & Lash tint (60 min) $90
There is a good range of different silicon pads and rolls to achieve the desirable lift/curl which suits your individual eye shape. We choose carefully, according to your wishes, lash condition and current length. The result will last up to 8 weeks, depends on your lash life cycle. Recommended for naturally full, strong and healthy lashes, for someone who wants just a pure lift.
It's health & volume elixir for your eyelashes & eyebrows. It's a unique treatment developed to nourish, thicken & moisturize the natural eyelashes. It takes only 10 min & and it can be added to any of lash lifts (lash perm, lash laminating, velvet reconstruction) as an extra step.
Eyebrow tattooing first session (180 min) $450
Using specific tools this style of Cosmetic Tattooing creates a soft, shaded brow similar to the look of brow powder. The powder fill method involves the application of thousands of tiny little dots of pigment, inserted into the skin, gradually building up a colour and a defined shape.
We recommend this style for anyone who usually wears brow powder and/or likes a more solid yet soft powdery look or for clients with a more oily skin. Your Initial appointment will take approx 2-3 hours including a detailed consultation of measuring and drawing your perfect brow shape.
Eyebrow tattooing 2nd session (150 min) $200
A second appointment known as the Perfection Appointment is needed 4-6 weeks after. This appointment is so we can check the colour or make any adjustments. This appointment takes approximately 2 hours. Generally Powdered Brows lasts 12-18 months however everyone holds pigment differently. There is no guarantee how long your brows will last. Some medications, the way the skin heals and many other factors can affect the lifespan. We recommend a touch up at 12 months however touch ups are available anytime if your brows fade quicker.
Eye Supreme Mask Service (10 min) $30
Dermosthetique Eyelift Treatment (30 min) $70
Indulge with our exclusive Gel Liftant Eye Patches that will soothe, calm and hydrate the entire eye area for instantly softer lines and rejuvenated eye appearance. Your eyes will be treated with key ingredients that will deliver nutrients to the eyes and a luxury energy point massage to reduce puffiness, dark circles and soften the appearance of fine lines and wrinkles.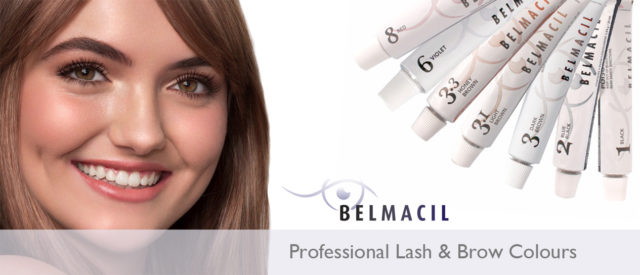 How great would it be to wake up in the morning and have your eyebrows already good to go?  With henna, you can temporarily tint your eyebrows in a painless and all-natural way so they're shaped every morning, with no need for pencils or powders. It's also a great way to trial a shape before you commit to feather-touch tattooing.
We use Belmacil tint powerful Swiss formula which stands out above the rest with the longest lasting
and most gentle eyelash tint colours on the planet. The definition that reigns supreme.
No clumps, no mess, just long-lasting colour for up to 6 – 8 weeks!